HELEN – Carroll's men's basketball team are 12-0. The Saints are enjoying their best start under head coach Kurt Paulson and have won the most consecutive games to start a season since Carroll went 15-0 to open 2017-18.
Almost everyone returned from last year's quarterfinal squad, including four starters. Jovan Sljivancanin, so far, has served as the Frontier Conference preseason player of the year, while Shamrock Campbell continues to stand firm as Carroll's veteran point guard.
What has apparently changed – or improved – over the past two seasons is the production Carroll gets from his great men. In 12 games, Ifeanyi Okeke and Brendan Temple are averaging 10 points per game – career highs – and better than five rebounds per game.
"They both went into skinny freshmen a few years ago, and now they're male," Paulson said. "They both have a double-digit average… It's a big punch on these forwards. They are really talented players. They are long and they have a good feel. They are not your traditional attackers but we love them. We recruited them because we saw their potential and they live up to their potential as juniors.
On four occasions this year, Okeke and Temple have both scored 10 or more points in the same game, and individually have reached double digits on seven occasions.
Being in the starting lineup is nothing new to Okeke or Temple. At the start of this season, Okeke had started 19 career games, with Temple filling fifth place in the roster 46 times. This year the two have started all 12 games – with Okeke at four and Temple at five.
"We've been playing together for two and a half years now," Okeke said. "Chemistry is at an all time high. It really is. We just created some chemistry and it's really starting to show now. "
The two can patrol the low block area, set up ball screens for guards, and bounce the basketball. Okeke brings more athleticism defensively and can hold almost any position on the pitch if asked. Okeke has also been the leading passer this season, racking up 31 assists (2.6 per game), while registering 10 blocks and shooting 46.3% from the field.
A season ago, Okeke made six starts earlier this year, but took on the sixth male role later. He did it so well that the Frontier named him co-sixth man of the year after averaging 7.3 points and 4.7 rebounds per game.
"This year he's got a starting spot and he's playing a lot of minutes," Paulson said of Okeke. "He keeps improving. I am really happy with his decision this year. He turns less, his assists are up. He is very altruistic, he always finds the man open. Guys love to play with him, not to mention his acrobatic dunks that the PE Center crowds love. They came to love watching him crisscross the ground up and down. "
Paulson described Okeke as a "shot in the arm" off the bench last year, but said he provided a "big boost" to the starting lineup this season.
Okeke scored a double-double with 16 points and 13 rebounds against the University of Oklahoma City on November 12. victory from behind against Montana Western.
"We had it from the guardians, we had it from the day care centers. He took [Jalen] Hodges at Western in the second half and did a great job, "said Paulson. "Offensively he's quite capable of coming out in double digits, 16 on Saturday. If we hadn't asked him to get them for us, we wouldn't have won this game.
Okeke played on the five when Carroll used his smaller lineup to better take on Western in the second half of last week's game. Paulson put Okeke in charge of knocking out the Bulldogs' top player and he did it well, keeping Jalen Hodges to just six points while playing the 20 minutes to close the game and propel the Saints to a 10 victory. points.
Temple described Okeke as a "beast". With as good as his teammate in the paint has been this season, Temple has matched his production. Twice this year, Temple set new career records for one-game scoring, dropping 17 points on an 8-on-8 shot to Our Lady of the Lake and following up with 18 points in an overtime victory at Bushnell .
Those two performances were the middle games of a four-game streak where Temple scored over 10 points each night. In that week-long run in late November, Temple shot 73.5 percent from the field and averaged nearly 15 points per game.
His 10 points and 5.3 rebounds per game are currently the career-best for the 6-foot-8 junior from Castle Rock, Colo.
"He's got a great feel for the game and a conscience on the pitch," Paulson said of Temple. "He's doing all the dirty work and he's huge on the offensive glass. He'll come up with a huge bounce on the weak side late in the game and get a takedown for us. These are the big games we can rely on from Brendan. "
On numerous occasions, Temple has stayed after practice – often with teammate Murat Guzelocak – to work on post moves and fundamentals. These weren't long post-workout sessions, but over time the extra reps started to make an impact when combined with the Temple work done during the off-season.
"This summer I got stronger, a little faster and thinner," Temple said. "This year the coach has really worked on me, focusing on getting some deep seals in the job and making my job a bit easier."
Some time just before his aforementioned high scoring streak, Temple had a conversation with the Carroll Hall of Famer and former men's basketball coach Gary Turcott.
"He just told me that I could be a really good player here and that I just have to keep working every day and listen to what they say because they know what they are talking about," Temple said.
Carroll has turned to Temple an increased amount this season. He has attempted 79 field goals in 12 games and averages almost one more field goal per game than last season. Temple is converting those field goals at a rate of 59.5% and said his slight increase makes the team feel more confident in him.
Already this season, fans have seen a variety of Temple's post moves, some that require the ability for him to finish at the rim with his left hand.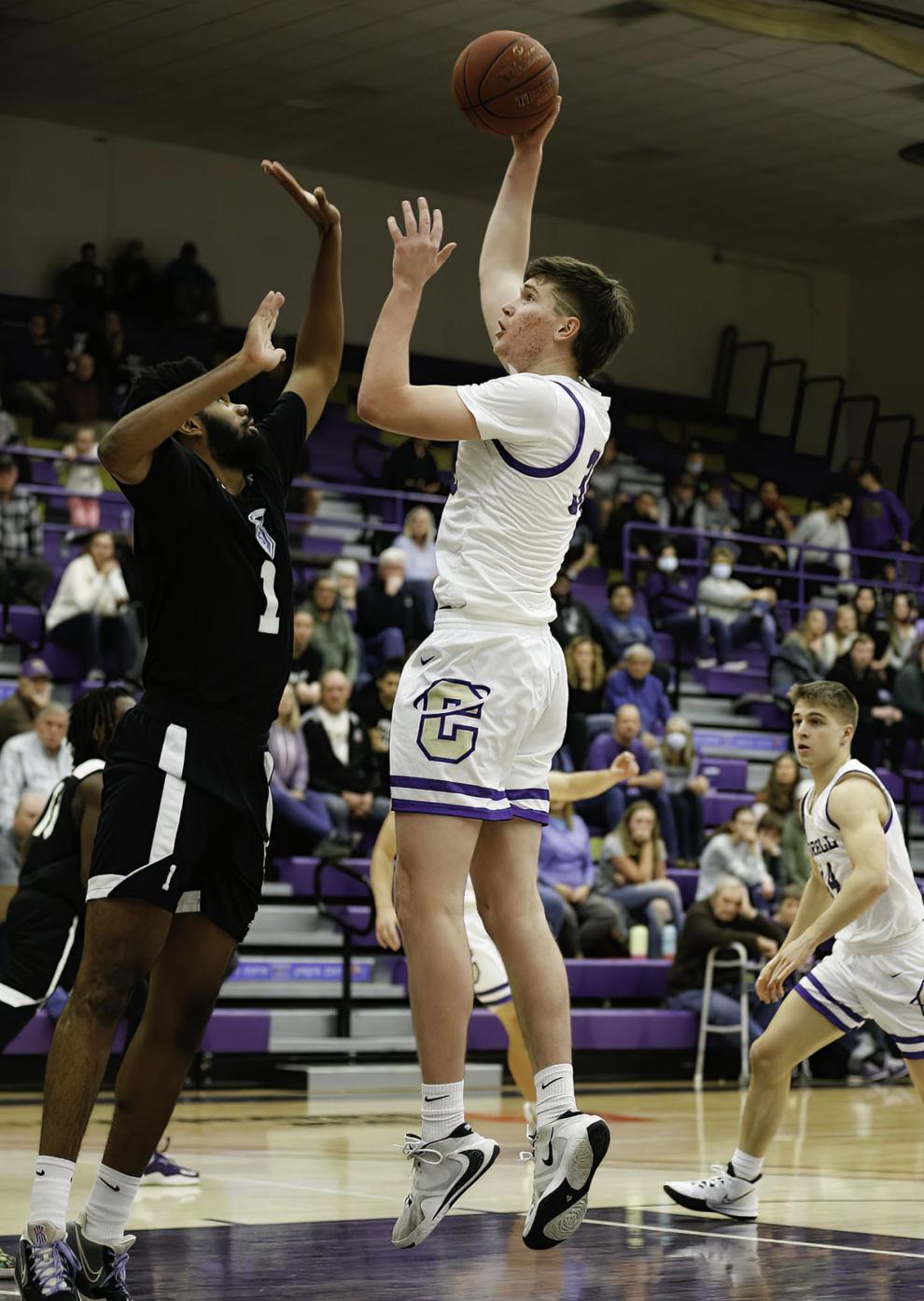 "I think I can go both ways, right, left and be just as hard both ways… I trust [my left hand] more than the right, at the moment …[Foot work is] everything, "Temple said. "I might not be the strongest guy, but being tricky with painting, making mistakes and just being different is huge."
Carroll, on average, gets over 11 rebounds per game from Okeke and Temple. The pair also had 46 offensive rebounds, helping the Saints maintain a plus-5.4 advantage over their class opponents and a plus-11.3 advantage in total rebounds.
According to Paulson, having legitimate score threats inside took some of the pressure off Carroll's guards to consistently carry the score load. Defensively, with Okeke and Temple in the starting lineup, opposing teams face longer jump length and throughout the match. It can also create lag opportunities against teams that don't have the size to match.
Carroll's big-man game – when pieced together with everything – helped the Saints maintain an unblemished record through mid-December. Carroll is ranked No.4 in the NAIA after starting the season at No.10 and has already started 2-0 in conference.
"It's a great feeling," Temple said. "This is exactly where we want to be and where we thought we were."
"He is [a good feeling], but just kind of next, "said Paulson. "I can't really dwell on which ones you just played and won, you have to keep looking ahead. We're just trying to focus on the next one, and the next one [game] we have is a big one. Don't dwell on successes but enjoy the group, and they like to play with each other.
Carroll is scheduled to play at Arizona Christian University on Friday. The game is part of the Cactus Classic in Chandler, Arizona. Arizona Christian is currently ranked No. 6 in the NAIA with a new poll expected to be released two days before the game-up.
The contest is also a rematch of last season's NAIA venue opener in Lewiston, Idaho. Carroll defeated Arizona Christian 83-79 to advance to the knockout stages of the NAIA National Tournament.