GEOPOLITICS OF ART:


In the 1960s and 1970s Pan painted for the US Navy, but when the US Army left he decided to join his father and start painting temples.
By Lee Hui-ting and William Hetherington / Staff Reporter, with Staff Writer
Third-generation temple artist Pan Yueh-hsiung (潘岳雄) has worked for decades to preserve traditional religious art through his work on some of the country's most important temples and teaching young artists – and at 80, he has no intention of stopping.
"I don't think about retiring at all. I can still paint, climb scaffolding and teach. As long as I can do it, I won't give up," said Pan, who earlier this year worked on murals at Tainan's Sishu Wanhuang Temple (喜樹萬皇宮).
Last month, he won this year's Tainan Cultural Award from the Tainan Cultural Affairs Bureau for his efforts to keep traditional temple art alive.
Photo: Lee Hui-ting, Taipei Times
In 2003, he won the 10th Annual Taiwan Junior Chamber International Chinese Culture and Arts World Prize. In 2013, he was registered with the Tainan city government as a painting restorer, and last year he received an outstanding citizen award from the city.
Pan, who says he learned temple art from his father and grandfather, worked on many temples in Tainan, including Guandi (關帝廳), Wudi (五帝廟), Wufei (五妃廟), Fengshen (風神廟) and Fahua (法華寺).
"I used to help my father paint the beams and pillars of the temple when I was a teenager, so I was proficient in that by the time I graduated from high school," he said. declared.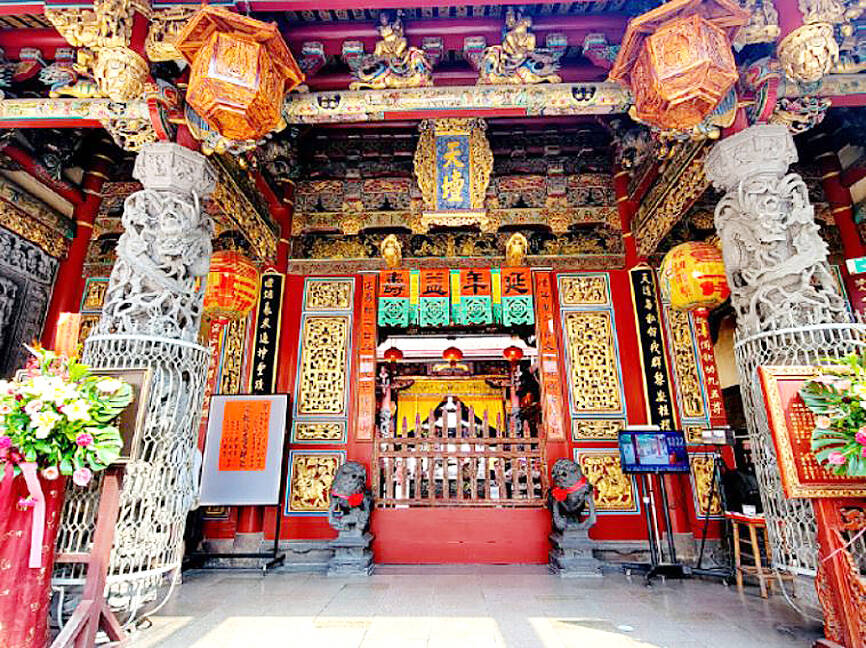 Photo: Lee Hui-ting, Taipei Times
He then worked as a painter for the United States Navy at his postal exchange and at his station between 1966 and 1977.
"It was in my early twenties and early thirties. It was a stable, well-paying job, the kind of dream job that everyone aspires to," he said.
After the US military withdrew from Taiwan, he was unemployed for a while, which led him to work for his father, he said.
"It was a simple decision to make, because I needed the job, and the painting was paying a bit better than some other industries," he said.
If the relationship between Taiwan and the United States had not changed, he might never have become a temple artist, he said.
Pan said working with leading artists on the restoration of the Songboling Shoutian Temple (松柏嶺受天宮) in Nantou County after it was damaged by fire in 2000 was one of his most important projects. rewarding and memorable.
During the restoration, he was lucky enough to work with four "outstanding" artists, including famous temple painter Chen Shou-i (陳壽彝), he said.
However, the temple that captivated him the most was Tientan Temple (天壇) – Taiwan's first temple, he said.
"My grandfather, my father and I all worked for this temple. There are nine paintings in there where they used gold paint on a black background, and the result is beautiful, very elegant," he said.
Pan has also been teaching traditional painting since 2000 and has traveled to several campuses to promote the teaching of temple art. For three months in 2007, the Tainan city government held a temple painting course at his request.
"As long as there are people willing to learn, I'm willing to teach," he said.
Comments will be moderated. Keep comments relevant to the article. Remarks containing abusive and obscene language, personal attacks of any kind or promotion will be removed and the user banned. The final decision will be at the discretion of the Taipei Times.